After a year like 2020, vacation rental hosts worldwide are ready for a strong summer season. Follow these tips to learn what you can do to prepare your Airbnb for a summer of responsible travel.
As if statistics showing a strong rebound of the travel agency sector weren't enough, vacation rental hosts and property managers are happy to report that the market has recovered more quickly than most would have thought. Down just 4.4% from 2019, the current travel market of $43.79 billion is on track to meet or even beat pre-pandemic numbers.
The increase in travelers shows a promising summer for hosts as you prepare your Airbnb for summer.

Safety is still a priority this summer, even amongst vaccinated travelers. Here is what you can do to enjoy a busy summer season while ensuring guests know your vacation rental property's safety measures.
Next, let's look at a few key practices for hosts to implement that will be especially meaningful for travelers this summer.
The New Normal of Travel
Visitor counts are expected to increase drastically this summer as travelers steadily become vaccinated and borders reopen.
Typically, the end of the school year spells V-A-C-A-T-I-O-N for many families. As other countries cautiously eye reopening their borders to foreign visitors, the common denominator for both property managers and vacation rental cleaners alike will be keeping guests safe.
So what can you do to prepare your Airbnb for summer?
Vacation rentals can provide an unmatched experience from a hotel stay due to the privacy it affords the guests. Even with hotels reopening, the benefits of choosing a vacation rental property are highlighted due to the pandemic.
Airbnb hosts should capitalize on the best parts of their service more than ever by communicating their offerings directly to their guests. Privacy, affordability, and above all, safety are key elements of the new travel experience that Airbnb hosts can hone in on this summer.
Next, let's take a look at ways to maximize safety measures and guest satisfaction while managing costs effectively.
Enhanced Cleaning and Safety Measures
First, take a closer look at how you market your Airbnb listings and any in-room materials you provide your guests. Any information you provide pre-booking can help reassure concerned travelers about health and safety measures being taken at your property.
What was once an after-thought is now often a deal-breaker: Yes, we're talking about heightened cleaning procedures. Hosts that commit to Airbnb's 5-step enhanced cleaning process are more likely to be booked.
In-room signage can allow hosts to communicate safety precautions with guests directly.
Try to use easily understood wording, images, or icons to simplify your messaging. Reinforce the importance of basic hygiene, including frequent hand-washing, covering coughs and sneezes, and wearing face masks in common areas.
Have you received positive comments about how you are handling COVID-19 safety precautions? Promote these reviews in your listing to help ensure guests' peace of mind when booking.

Additionally, find ways to capture and incorporate feedback from guests. But remember, you must stay on top of your reputation management as a host. This means actively checking any new reviews you receive and proactively responding to any negative comments.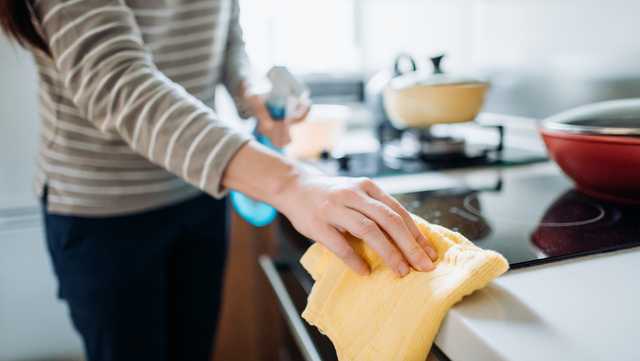 Tips to Wow Your Guests
Below is a list of six responsible actions you can take to prepare your Airbnb for summer.
Positive Notes
A welcome note is a small gesture that can go a long way with your guests. Remember, this may be the first time your guests have traveled in over a year! A thoughtful message thanking them for choosing your property will go a long way in making your guests feel comfortable during their stay.
Excellent Communication
Maintain excellent communication with your guests at every touchpoint – from booking to during their stay to checkout. Show that you care and let them know you're available to answer any questions they might have along the way.
COVID-19 Personal Protection Kit
Consider providing your guests with complimentary products to encourage healthy behavior during their stay. This can include hand sanitizer, tissues, antimicrobial wipes, masks, etc.
Comment Book
Whether you are new to hosting or have years of experience, encourage guest comments during their stay. Consider placing a notebook or ledger in a visible area. You may even opt to create an autograph feature somewhere in your property for guests to further document their stay.
Remember, you'll also want to still encourage reviews on your direct booking platforms as well.
Recommendations
Guests appreciate tips and recommendations from hosts to help them get to know the area. Put together a list of your favorite local businesses, restaurants, and activities near you.
While many businesses are returning to normal operations, some are going above and beyond. Be sure to highlight any businesses that are going the extra mile to help make visitors feel safe.
Cleaning Procedures
Whether you work with Airbnb cleaners or clean your rental yourself, guests will appreciate being aware of your heightened cleaning procedures. Be sure to include these details on your booking sites as well.
Adding meaningful finishing touches to your Airbnb experience can be the difference between a good vacation and a memorable experience that lasts a lifetime.
Prepare for Young Adult Travelers
This summer will likely see an influx of young adult travelers that are eager to get away.

With school out for the summer, college-age students 18- to 21-year-olds may not always have their health and safety as a top priority. To help ensure that every guest is following healthy practices, consider leaving positive reminders in your vacation rental property. This can include the bathroom, kitchen, and entrance of the property.
Communicate any rules and guidelines you require all guests to follow while staying at your property. It is important to stress the house rules in advance to help mitigate any issues during their stay.

In April 2020, Airbnb announced a global ban on parties that remains in place today. Airbnb is committed to a safe and responsible summer for guests, hosts, and neighbors alike. In fact, only guests with a healthy review history will be able to book full home rentals this Fourth of July.
Responsible travel can be accomplished with the efforts of everyone seeking a memorable summer vacation.
Enjoy the Summer to its Fullest
The resurgence of travelers as the world reopens is an exciting time for the travel industry, including vacation rental hosts worldwide.

Use this opportunity to commit yourself to create a safe environment for guests. This transitional phase will be a large task, but hopefully, a memorable achievement for your guests to enjoy.

As an Airbnb host, you are making it possible for vacationers to step back into normalcy – work together and share your safety precautions generously.